If you like this recipe come back on www.happystove.com and rate it!
Beef Steaks with Porcini Mushroom Sauce - Recipe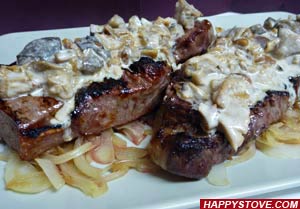 Porcini mushrooms are well known for their full and earthy flavor that well matches cream and caramelized onions in this exquisite and easy sauce. Try this gourmet recipe for Beef Steaks with Porcini Mushroom Sauce and bring a true delicacy on your table.
Stats:
Preparation time:

10 minutes
Ingredients:
To browse other recipes using that ingredient click on the
Cooking Directions:
The Sauce:
Prepare the Porcini Mushroom Sauce as instructed on the recipe: Porcini Mushrooms and Cream Sauce ↪.
The Caramelized Onions:
Slice the onion in strips.
Heat a pan with some olive oil and stir fry the onion strips until brown, stirring frequently.
The Steak:
Before starting, remove the beef steaks from the fridge and let them reach room temperature.
Clean the excessive fat off the steaks and season them with salt and black pepper.
Preheat a grill or a griddle on high and cook the beef steaks turning them often until they reach the desired doneness.
The Arrangement:
Prepare a bed of caramelized onions on a serving plate.
Lay the steaks on top of the onions and cover with the Porcini Mushroom Sauce.
Serve immediately with a fresh arugula or mixed green salad as a side.
Tips:
Good quality ingredients are the secret of this delicious recipe. Top sirloin beef steaks and Porcini mushrooms are suggested.
Beef Steaks with Porcini Mushroom Sauce is tagged as: