If you like this recipe come back on www.happystove.com and rate it!
Bolognese Sauce - Recipe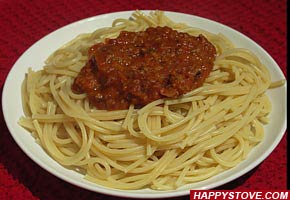 A quick and easy recipe for one of the most loved Italian pasta sauces. Bolognese sauce (known in Italy as ragu) is a perfect choice for a hearty and yummy pasta. Versatile and tasty, bolognese sauce is an essential ingredient for many dishes including lasagna and cannelloni.
Stats:
Preparation time:

25 minutes
Cooking Directions:
Cook the minced onion in olive oil in a heavy pot on moderate heat for about 5 minutes, stirring continuously, until lightly caramelized.
Add the chopped carrot and the chopped celery and cook for additional 5 minutes, stirring often.
Add the ground beef and let the meat release its liquid. Add the crushed red hot pepper if desired. Cook until no more water is left and the meat acquires a light brownish color.
Add the tomato sauce, salt and pepper and gently simmer, covered, until the sauce is thickened, about 20 minutes, then remove from heat.
Tips:
Bolognese Sauce is the perfect dressing for many types of pasta including spaghetti, tagliatelle, penne, rigatoni, gnocchi and medium shells. It is also an essential ingredient for Traditional Lasagna ↪ and Traditional Bolognese Cannelloni ↪.
Some Bolognese Sauce recipes call for 1/2 lb of ground beef and 1/2 lb of ground pork.
Bolognese Sauce is tagged as: