If you like this recipe come back on www.happystove.com and rate it!
Caribbean Style Beef Steak - Recipe
Bored of the usual steak? Want to bring an exotic flavor on your table? Caribbean Style Beef Steak will do this for you and, guess what? It is delicious! With its smooth coconut flavor and the spicy hint of jalapeños, your meal will turn into a Caribbean party!
Stats:
Preparation time:

20 minutes
Cooking Directions: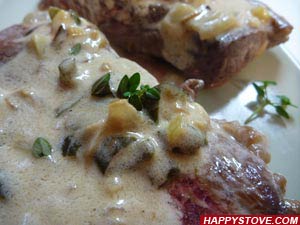 In a large pan heat the oil and saute the minced onions, the chopped garlic and the jalapeños.
When the saute is almost golden brown, lay in the pan the beef steaks and quickly sear them on both sides.
Add the coconut cream and mix well to the onions, jalapeño and garlic sauce. Add some coconut milk or some water if too thick.
Sprinkle with allspice and adjust with salt.
Cover the pan with a lid and cook for about 5-10 minutes or until the meat is well cooked. From time to time pour some of the coconut cream sauce on top of the steaks to keep them moist.
Just before serving sprinkle with fresh chopped thyme.
Serve hot with a side of steamed rice, plantains (Fried Plantains ↪) or rice and beans.
Caribbean Style Beef Steak is tagged as: