If you like this recipe come back on www.happystove.com and rate it!
Porcini Mushrooms and Cream Sauce - Recipe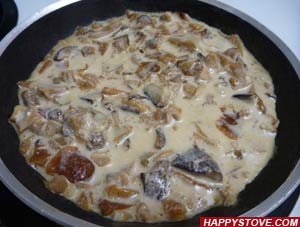 Porcini Mushrooms and Cream Sauce is a delicious recipe to dress pastas and meat dishes. It can be also used as a simple and tasty base for other dishes like Porcini bruschettas. Yum!
Stats:
Preparation time:

10 minutes
Cooking Directions:
If you are using dried Porcini mushrooms, wash and transfer them in a cup. Cover with warm water for about 30 minutes to moist them. Drain when ready. If you like you can save part of the obtained liquid to add to the sauce.
Fresh Porcini mushrooms would be the best choice for this recipe; in this case wash and clean them very carefully.
Mince the garlic and reduce the mushrooms in small pieces.
Heat a large non stick pan. When very hot add a little bit of oil, the garlic and the Porcini mushrooms.
Cook at low heat for 5 minutes if using dried Porcini or 10 minutes if using fresh ones. Consider adding some water if the sauce gets too dry.
Tips:
Bring the heat to the minimum and add the table cream. Adjust of salt and pepper. Stir occasionally and cook until the cream has reached the desired consistency. If too thick add some milk.
You can use this cream to dress pasta dishes, beef or as a sauce for your sandwiches.
Dried Porcini mushrooms are very expensive but full of flavor. To save some money, you can mix to them fresh, dried or canned less flavored mushrooms. While cooking the other mushroom will take the flavor of the Porcini.
Porcini Mushrooms and Cream Sauce is tagged as: