If you like this recipe come back on www.happystove.com and rate it!
Oven Baked Kale Chips - Recipe
Simple and delicious, low in calories and easy to cook, Oven Baked Kale Chips are the perfect snack for everyone health savvy. With so many way to prepare them, kale chips easily please every taste and are great in a low calorie diet. Try them salty or sweet, spicy or nutty.
Stats:
Preparation time:

10 minutes
Cooking Directions: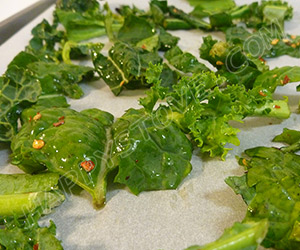 Thoroughly wash the kale and dry it very well. Remove the stems and chop the leaves.
Preheat the oven at 350F.
Dress and season the kale chips according to your taste. Check the suggestions below for some ideas.
Lay the chopped, dried and seasoned kale leaves on a tray lightly greased or covered with parchment paper.
Bake in the oven for about 8-10 minutes or until the leaves are crispy but not burnt.
Remove from the oven and serve.
No Oil Seasoning Ideas
Sprinkle directly the seasoning on the kale leaves on the tray
Sea Salt and Spicy Crushed Chili
Ginger
Sesame Seeds
Cayenne Pepper, Salt and Cumin
Mustard Powder
Garlic or Onion Powder
Dressing Ideas
Dress the kale leaves in a bowl before laying them on the tray. Allow more time for baking.
Extra Virgin Olive Oil
Flavored Oils (truffle, spicy, lemon, mushrooms)
Balsamic Vinegar
Lemon/Lime
Soy Sauce
Sweet Dressings
Coat the kale leaves in a bowl before laying them on the tray. Consider adding some water to help the coating process. Allow more time for baking.
Maple Syrup
Honey
Cocoa powder (or Carob Powder)
Chopped Nuts
Cinnamon
Tips:
2 oz of kale is good for a 15x10 inch tray. The leaves should not overlap.
Kale should be perfectly dry and the leaves should be chopped in pieces of the same size.
In alternative to the oven you can use a dehydrator
Oven Baked Kale Chips is tagged as: