If you like this recipe come back on www.happystove.com and rate it!
Ham Burger Pizzaiola - Recipe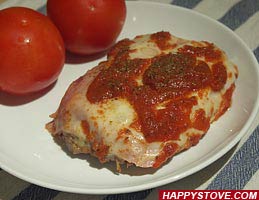 Tired of the usual patty? Turn your ham burger into a delicious pizzaiola meal with these ground beef hamburgers, mozzarella cheese and tomato sauce recipe. A simple recipe for a scrumptious result.
Stats:
Preparation time:

15 minutes
Cooking Directions:
In a large non stick pan, cook the ground beef hamburgers to desired doneness.
Lay a slice of ham on top of the patty.
Lay a mozzarella cheese slice and cover each patty with 1-2 tablespoons of tomato sauce.
Add some oregano and adjust with salt, to taste.
Cover and continue to cook at medium heat until the mozzarella cheese is melted.
Tips:
Serve this Ham Burger Pizzaiola patties with a side of steamed rice or french fries.
Ham Burger Pizzaiola is tagged as: