If you like this recipe come back on www.happystove.com and rate it!
Turkey and Vegetables Broth Soup - Recipe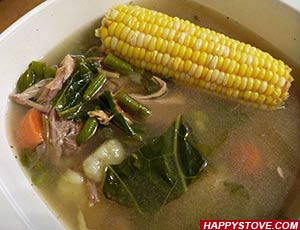 There is nothing better than a warm turkey and vegetables broth soup for a cold winter night dinner. This delicious soup recipe can be prepared using leftovers and keeps very well if prepared ahead of time. A must try.
Stats:
Preparation time:

30 minutes
Ingredients:
To browse other recipes using that ingredient click on the
Cooking Directions:
Wash, peel and clean the vegetables. Cut in large pieces the green beans, onions, carrots, the peeled potatoes, the celery and the endive.
Clean the turkey and cut both the white and dark meat in pieces. Keeping the bones.
In a large pot, heat the oil and briefly saute the onions at medium high heat.
Add the peeled carrots, the celery, the green beans and the peeled potatoes in pieces.
Add the turkey meat in pieces without the bones and stir fry for few minutes.
Add this point add 4 cups of water, the rest of the vegetables, the whole corns on the cob and the endive lettuce.
Tightly wrap the turkey carcass leftovers with a cheesecloth. Seal well and add it to the soup.
Add ground cumin and allspices and adjust of salt and pepper. If desired you can add whole allspice and other spices inside the cheese cloth to ease their removal.
Lower the heat, cover and cook 90 minutes at low heat stirring gently from time to time.
Remove the wrapped bones and discard.
Serve hot with saltine crackers or toasted bread.
Tips:
You can use turkey and vegetables leftovers to prepare this soup. In this case to make the soup more heartier substitute half of the water with broth or add a buillon.
You can prepare this soup well ahead on time. Keep it in the refrigerator and reheat this delicious soup just before serving.
It is possible to freeze soup leftovers, be sure to discard the corn.
Instead of adding the bones wrapped in the cheesecloth directly to the soup you can prepare the broth ahead of time and use it instead of the water. Boil for 1 hour in water the meat, bones, herbs and spices directly in the pot. Filter with a fine mesh strainer to clear the broth.
Turkey and Vegetables Broth Soup is tagged as: