If you like this recipe come back on www.happystove.com and rate it!
Salsa Mexicana - Recipe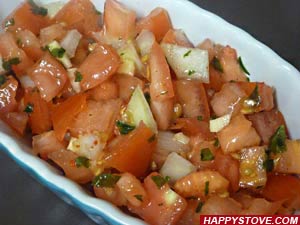 In this recipe we present a classic of the Mexican culinary tradition: the Salsa Mexicana. This fresh and delicious tomato and onion based sauce is the perfect choice to dip your tortilla chips or as filling for tacos, tortas and sandwiches. Great also with your favorite meat or queso cheese. Fiesta!
Stats:
Preparation time:

5 minutes
Cooking Directions:
Wash the vegetables. Cut tomatoes and onions in small cubes about 1/3 inch wide. Mince the garlic.
In a bowl mix together the minced garlic, the cubed onion and the tomato cubes.
Add abundant chopped fresh cilantro and the finely sliced Serrano pepper on the desired amount.
Dress with lime juice and salt, mix well.
Although you can consume it immediately, it is advisable to let rest the sauce for at least one hour before using it. This will allow the flavors to mix and reach a perfect balance.
Serve the sauce with tortilla chips or in tacos, tortas and sandwiches with your favorite meat or queso cheese.
Tips:
Keep in mind that when properly refrigerated, the salsa mexicana keeps few days.
Every family has its own version of this very same recipe: in some versions half tablespoon of sugar is added to the salsa, some other requires to heat and peel the Serrano peppers before using them.
Salsa Mexicana is tagged as: