If you like this recipe come back on www.happystove.com and rate it!
Meat Pizza Pie - Recipe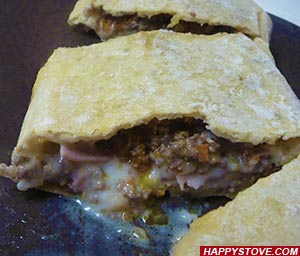 A hearty and juicy filling of ground beef, bechamel sauce, ham and cheese enclosed in a crusty homemade pizza dough. This recipe for a meat pizza pie will be a sure success with your family and your guests. Delicious and yummy!
Stats:
Preparation time:

60 minutes
Ingredients:
To browse other recipes using that ingredient click on the
Cooking Directions: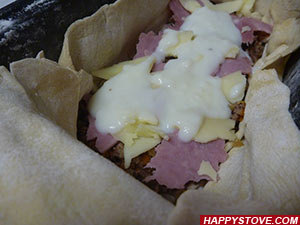 Preparing the Pizza Dough for the Crust:
Detailed instructions on how to prepare the pizza dough can be found at the following link: How to make Pizza dough ↪ or you can buy it at most stores.
Mix 1 lb of flour, 2 tsps of sugar and 1 tsp of salt in a large bowl. Add 1/2 oz of instant yeast, 1 1/2 tbsps of oil and up to 1 cup of lukewarm water.
Knead to obtain a homogeneous dough adjusting with flour or water if necessary.
Let rest the dough, covered with a moist kitchen cloth, for at least 30 minutes (60-180 minutes advised) in a warm place.
Roll the dough in a thin layer, thick enough to don't break when adding the filling and folding the meat pizza pie.
Preparing the No Tomato Bolognese Sauce ↪ for the Filling:
You can prepare the filling while the dough is rising. More instructions can be found in the recipe for No Tomato Bolognese Sauce ↪.
Briefly, wash and chop the vegetables: 1 onion, 2 carrots and half cup of celery.
Stir fry onions, celery and carrots with 2 tbsps of olive oil until wilted.
Saute 1 lb of ground beef until well browned.
Adjust with salt and pepper and let cool down before using the sauce for the filling.
Preparing the Bechamel Sauce ↪ for the Filling:
Prepare half of the quantities described in the recipe for the Bechamel Sauce ↪.
Melt 1/4 stick of butter in 1 1/4 cups of milk. Sift 1/8 cup all purpose flour in the milk, stirring continuously. Adjust of salt and sprinkle with ground nutmeg. Boil for about one minute, stirring. You should obtain a smooth and creamy sauce.
Let cool a bit before the use.
Filling, Folding and Baking the Meat Pizza Pie:
Lay the rolled pizza dough in a greased loaf pan trying not to break it. Leave enough dough for closing the pie. If the dough dried out, moisten it with some water.
Fill the pizza pie with the No Tomato Bolognese Sauce ↪, the mozzarella cheese and the sliced ham in pieces. Top with Bechamel Sauce ↪.
Fold the pizza dough on top of the filling to close the pizza pie. Use some water to better work the dough and help sealing it.
If desired, you can pour some tomato sauce on top, after folding the meat pizza pie.
Bake in the oven at 400F for about 30 minutes or until the pizza dough is well cooked but not brown and crunchy.
When ready remove from the oven and serve hot.
Tips:
Instead of the No Tomato Bolognese Sauce you can use different fillings like a Bolognese Sauce ↪ with tomato sauce, a Eggplants Bolognese Sauce ↪ or a mushrooms based Porcini Mushrooms Bolognese Sauce ↪.
Instead of a big pizza pie try making many small pizza pockets. Reduce baking time accordingly.
Meat Pizza Pie is tagged as: