If you like this recipe come back on www.happystove.com and rate it!
Ruth's Pinza, an Italian Traditional Fruit Cake - Recipe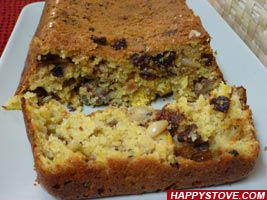 Ruth's Pinza (or Pinsa) is our easy variation of an Italian Traditional Fruit Cake, usually baked during the Christmas Holidays. A slice of this eggless cake is perfect for a coffee break or as a sweet treat at the end of your meal.
Stats:
Preparation time:

40 minutes
Ingredients:
To browse other recipes using that ingredient click on the
Cooking Directions:
This is an elaboration of a traditional Italian fruit cake "Pinza" that is usually prepared for the holidays. This recipe has its origin in the poor areas of the countryside as a sweet baked version of the porridge.
Moist the dried raisins in enough Grappa liquor to cover them for at least 30 minutes. If you don't have Grappa you can use Brandy or Rhum.
Wash and peal the orange saving the zest. Carefully discard the white bitter part and cube the orange zest in small pieces.
Reduce in small pieces walnuts, dried plums, dried figs and the other mixed dried fruits.
In a large bowl mix together the corn meal with the all purpose flour, the sugar and the active dry yeast.
Melt the butter in the warm milk. Slowly pour it in the large bowl stirring well to avoid lumps. The result should be a creamy and homogeneous dough.
Drain the raisins from the Grappa liquor. Add them and all the other dried fruits and nuts to the dough. Add the fennel seeds and mix well.
Transfer in a non stick bread baking pan and let rest for about one hour in a warm place. Fill no more than 3/4 the pan since the dough, rising, should double in volume.
Preheat the oven at 350F and bake for one hour or until ready. The Ruth's pinza is ready when a wood skewer inserted in the cake comes out dry.
Let cool before serving. This eggless cake will keep well few days at room temperature, just cover it with a kitchen cloth.
Tips:
You can use an electric mixer to mix the dough and avoid lumps.
Ruth's Pinza, an Italian Traditional Fruit Cake is tagged as: