If you like this recipe come back on www.happystove.com and rate it!
Shrimp and Cocktail sauce Tramezzini - Recipe
Shrimp and Cocktail sauce Tramezzini are delicious mini snacks from the best Italian tradition. An easy to prepare treat for a sophisticated and delectable bite.
Stats:
Preparation time:

10 minutes
Ingredients:
To browse other recipes using that ingredient click on the
Cooking Directions: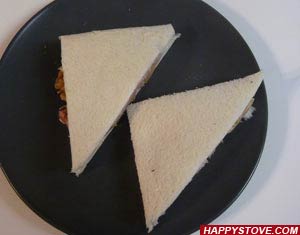 Prepare the salsa rosa sauce as described in Cocktail sauce - Salsa rosa ↪
Cut the crusts off all the bread slices and then cut each sandwich slice into 2 triangles.
Boil the shrimps for few minutes and cut them in little pieces.
Mix together in a bowl the shrimps and the Cocktail sauce.
On one side of one triangle spread a generous amount of the cream.
Cover with the remaining bread triangle
Tips:
Tramezzini are a versatile appetizer. Just match the flavors you like better and you will be able to create many delicious snacks
If you prepare these tramezzini in advance, I advice to put a slice of lettuce between the bread and the sauce to maintain the bread dry.
Shrimp and Cocktail sauce Tramezzini is tagged as: