If you like this recipe come back on www.happystove.com and rate it!
Flaky Crust Dough - Recipe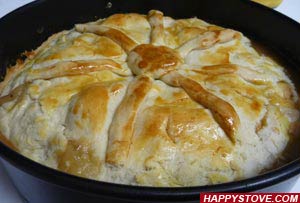 Flaky Crust is a versatile ingredient for both sweet pies and salty quiches. In this recipe we explain how to make a perfect flaky crust that you can turn into many delicious dishes.
Stats:
Preparation time:

20 minutes
Cooking Directions: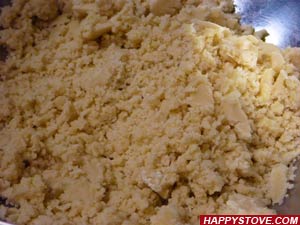 The secret for a successful flaky crust dough is working quickly without over heating the dough. Otherwise, the butter will melt too quickly producing a too hard crust.
Using a food processor, blend together the all purpose flour, the cold butter and a pinch of salt to obtain a crumbly mixture.
Transfer the mixture in a cold bowl.
Slowly add the iced water, kneading with the help of your hands, until the dough holds together. Add more iced water if necessary.
Form a ball with the dough, wrap with plastic film and let rest in the fridge for about 40 minutes.
Remove from the fridge and flatten the dough for your pie or quiche, preferably on a cold surface.
Tips:
Avoid overheating is the best way to obtain a perfect flaky crust. Cool-fill rolling pins filled with iced water can be used to maintain low the temperature while working the dough.
Cook accordingly to the chosen recipe, usually at 400 F for a time varying between 15-20 minutes (for a quiche) to 30-40 for pies.
If you are making the flaky crust for sweet preparations you can add a tablespoon of sugar to the mixing.
Flaky Crust Dough is tagged as: