If you like this recipe come back on www.happystove.com and rate it!
How to make Italian Piadina Flatbread - Recipe
This recipe explains how to make home made piadina flatbread. Piadina is a traditional Italian bread served as it is or filled with prosciutto, ham, cheese and vegetables.
Stats:
Preparation time:

30 minutes
Cooking Directions: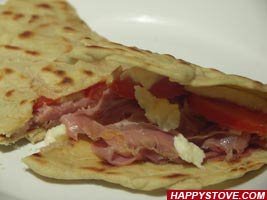 Piadina or Piada is a thin Italian flatbread traditionally cooked on a terracotta dish. Nowadays flat pans or griddles are commonly used.
Piadina is cooked and then usually folded with a filling of prosciutto, ham, cheeses and vegetables, or with sweet fillings such as jam or Nutella. Another recipe for the piadina is known as Crescione. Crescione Piadina is filled and folded before cooking. Just imagine a huge dumpling.
Mix in a large bowl the bread flour, the lard, the baking soda and the salt.
Knead until you obtain an homogeneous dough adding slowly the warm milk and water. If the obtained dough is too thick adjust with water, if too soft add more flour.
Let stand the Piadina dough for about one hour covered with kitchen cloth.
Divide and shape the dough to form spheres as big as an egg.
Flatten each dough ball with the palm of your hand or with a rolling pin to form a disk 8 - 9 inches wide and about 3/32 of an inch thick (about 2 quarter coins thick).
Preheat a large enough skillet or griddle. Cook the Piadina disk flipping it frequently and pricking the Piadina with a fork to avoid it to rise.
Cook them until brown but still soft.
Serve still warm folded and filled with your favorite choice of prosciutto, ham, cheeses and vegetables, or with sweet fillings such as Jam or Nutella.
Tips:
For a vegan version of this recipe you can substitute the lard with extra virgin olive oil. Lard anyway is the traditional ingredient used for best results.
The bread flour has an higher content in protein compared to the all purpose flour. If you use all purpose flour substitute the water with whole milk for a softer Piadina.
Filling Suggestions:
Prosciutto and Fresh Mozzarella Cheese.
Cooked Ham, Mushrooms and Mozzarella Cheese.
Cream Cheese, Arugola and Cooked Ham.
Grilled Vegetables and Cheese
Fresh sliced Tomato, Prosciutto and Basil leaves
Sausages, Cheese and Grilled Red Peppers
Sweet version: Hazelnuts and Nutella
Sweet version: Peanut butter and Jelly
How to make Italian Piadina Flatbread is used for:
How to make Italian Piadina Flatbread is tagged as: