If you like this recipe come back on www.happystove.com and rate it!
Apples and Onions Roast Pork Loin - Recipe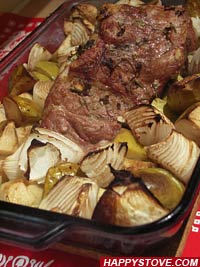 Apples and onions are the main ingredients of this unusual roast pork loin recipe. The tart and crispy flavor of the apples well matches with the onions and pork meat.
Stats:
Preparation time:

30 minutes
Cooking Directions:
Wash, dry and finely chop all the herbs: rosemary, thyme, garlic and sage. To follow, add to the mix salt and pepper to taste.
In a large pan, add the olive oil and cook the Pork loin for a few minutes until slightly brown. Let chill.
Rub the pork loin with the herbs mix
In a large baking pan, lay the cubed apples (including the skin) and the onions (in large pieces).
Place the pork loin in the baking pan. Add olive oil, the balsamic vinegar and the red wine. Let marinade for at least 20 minutes.
Cook in the oven at 400 F for about 60 minutes or until ready.
Serve the meat sliced and hot using as a side the apples and the caramelized onions.
Tips:
To highlight the taste of the pork loin you can cut small slits in the meat using a knife or, even better, a skewer and fill the holes with the herb mix.
As a suggestion, you can add on the side some steamed rice just before serving.
Best results can be obtained using tarty and crispy apples. We suggest to use Rennet apples or, if not available, Granny Smith or Jonathan apples.
You may want to try drizzle some Acacia honey over the pork loin before serving.
Apples and Onions Roast Pork Loin is tagged as: