If you like this recipe come back on www.happystove.com and rate it!
Caramelized Onions and Mayonnaise Dressing Sauce - Recipe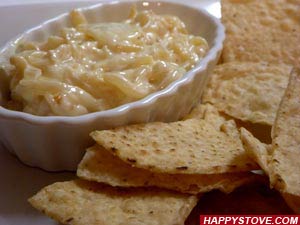 Looking for something easy, quick and tasty to dress your sandwich? This recipe for Caramelized Onions and Mayonnaise Dressing Sauce is perfect for you! A delicious dressing for your panini or your salad! Heavenly as a dip sauce with tortilla chips too! A must!
Stats:
Preparation time:

5 minutes
Cooking Directions:
Wash and finely shred the white onions.
In a large non stick pan saute the shredded onions with the extra virgin olive oil until golden brown.
When the onions are caramelized, let cool for a while.
Stir the caramelized onions with the mayonnaise. Adjust with salt and pepper.
Use as dipping sauce with tortilla chips, as simple and quick dressing sauce for your sandwiches or salads.
Caramelized Onions and Mayonnaise Dressing Sauce is tagged as: