If you like this recipe come back on www.happystove.com and rate it!
Grilled Chicken Breast - Recipe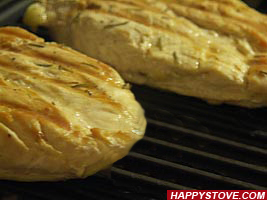 Grilled Chicken Breast is an easy and healthy recipe for an everyday meal. The delicacy of the marinate highlights the full flavors of the chicken meat for a great result.
Stats:
Preparation time:

10 minutes
Cooking Directions:
Lay the boneless chicken breasts in a large baking dish.
Add salt, pepper, rosemary, then the lemon juice and in the end the olive oil.
Make sure that all the sides of the chicken breasts are dressed with the marinate.
Let rest for at least 30 minutes, flipping the meat from time to time, to be sure that the marinate are flavoring the chicken breast uniformly.
Heat the grill to medium-high and cook the chicken breasts until slightly brown and cooked through, about 2 minutes for each side.
Serve with a side of Spiced Spinach ↪, Oven Baked Potatoes ↪, Grilled Vegetables ↪, steamed rice or mixed green salad.
Tips:
While grilling the chicken breasts you can keep them moistened brushing with a rosemary bunch some of the marinate on the meat.
The marinate can be flavored with your favorite herbs or with the addition of 1-2 tablespoons of white wine instead of the lemon juice.
Grilled Chicken Breast is tagged as: