If you like this recipe come back on www.happystove.com and rate it!
Ricotta Dough Bags - Recipe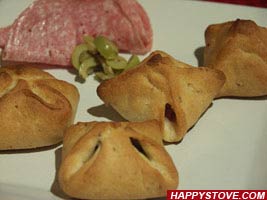 Ricotta Dough Bags are delicious finger appetizers filled with a tasty surprise. Elegant choice as snacks for your party or perfect as starters for a special occasion.
Stats:
Preparation time:

30 minutes
Ingredients:
To browse other recipes using that ingredient click on the
Cooking Directions:
Prepare the Ricotta Cheese Dough as described in How to make Ricotta Cheese Dough ↪.
Using a rolling pin, roll the dough into a layer of about 1/5-1/6 inches of height
Cut the cookies into squared shapes and lay within each of them a little amount of your favorite fillings. Join the corners on top of the filling to obtain little bag shaped snacks. Close the edges using your fingers.
Bake for 20 minutes at 400F in a baking pan covered with a cookies sheet.
For the filling we suggest:
Mozzarella cheese and olives
Mozzarella cheese and mushrooms
Hot peppers and a very thin slice of salami
Olives and anchovies
Onions and tuna
Tomatoes, mozzarella cheese and oregano
Spinach and fresh ricotta cheese
Tips:
We suggest to adjust the fillings to match the main course or theme of the occasion.
Ricotta Dough Bags is tagged as: